Digital Marketing
Attract new audiences with tailored

digital marketing
Opportunity Research
Google Text Ads
Google Display Ads
Retargeting
Google Video Ads
Social Ads
Programmatic Ads
Campaign Strategy / Management
Live Reporting
We find the opportunities for your business to achieve your goals online.
Digital marketing is an effective way to get your messaging in front of potential customers.
Whether your primary goal is brand awareness, demand/lead generation or sales, we work with you to develop an appropriate strategy to achieve your goals.
We have experience across new & emerging platforms, and we tailor campaigns to generate results for a wide range of domestic and international businesses.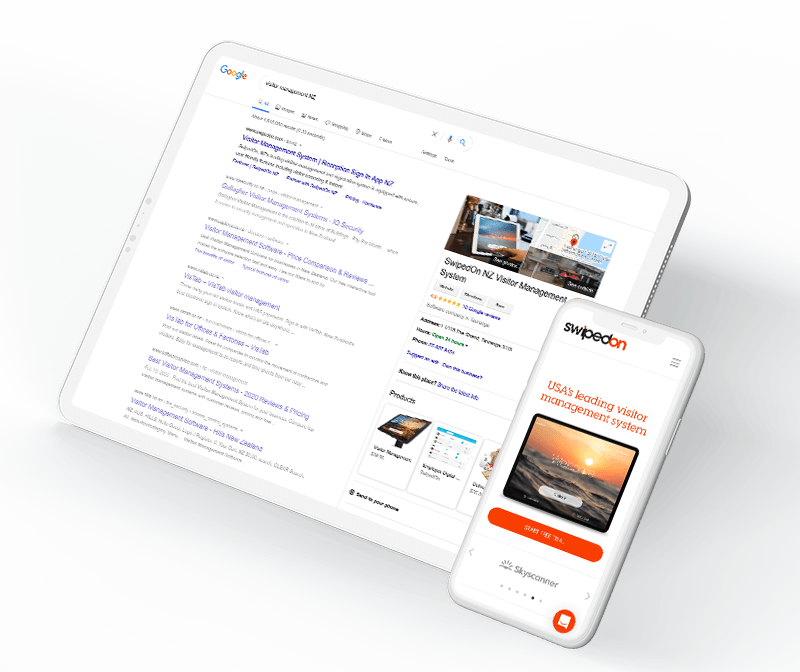 Your Definitive Guide To

Digital Marketing
Even though our online ads team is based in Tauranga, we provide online advertising services for clients all over New Zealand, and attract clients/customers for our clients from all over the world. Each country is a little different, but the online ads principals are the same.
Frequently Asked Questions about Digital Marketing
Q: "What's the difference between digital marketing and online advertising?"
The phrases "digital marketing", "online advertising" and "internet marketing" do seem similar but there are some differences.
Digital marketing is much broader and includes any type of messaging that can be delivered digitally such as text, image, audio or video on websites, in apps, in emails and in ads.
Whereas "online advertising" is paid advertising to providers so you can reach audiences outside of the platforms you already control.
For example, email is a form of digital marketing, because its a method of communication with your customers, but if you were to purchase an email list it becomes online advertising because you are paying for access to that new audience.
We commonly think of our access to the internet through our desktops, laptops, tablets and smart phones, but these days this can include media that has recently become digital such as digital billboards.
More devices are becoming "smart" and joining the internet, so the number of devices (and surfaces) that are online is increasing exponentially. The next fridge you buy may be smart, so you can expect to see ads on your fridge door (this fridge might even be discounted to compensate you for the ads you'll see).
Q: "What are 16 different digital marketing methods?"
Websites

The content you choose for your own website
Content components: text, images, video, downloadable documents and forms
Content topics: products, services, information and contact details
Webpage types: static pages and blog articles / posts

Search Engine Optimisation (SEO)

Onsite: Creating and structuring your website content in the hope that Google will send you free web traffic from the Google search results pages
Offsite: Creating links back to your site in the form of links from related (but non-competing websites), listings on business directories, and article content on other peoples sites that link back to you (also called "guest posts" or "guest blogging")

Search engine ads

Also known as "cost-per-click ads" or "pay-per-click ads" or "paid search ads"
Text-based ads on the search results page

Small format text-based ads

In smaller spaces where display ads don't fit, or are not available, small text-based ads can be inserted
Commonly seen on Googles Display Network which includes sites such as Gmail, Google Maps, Youtube, Google Play etc
(A specialty of ours here at CreativeQ)

Display ads

Also known as "banner ads"
Can be static or animated, with messages, branding, colour, images, shapes and buttons
(A specialty of ours here at CreativeQ)

Video

Video content on video sharing platforms such as YouTube, Vimeo, Tiktok, Vine
Video ads to play before, after and during other related video content
(Here at CreativeQ we can't help with video creation, but placement of your video ads is a specialty of ours)

Social media

Creating and maintaining a profile on various individual social media platforms
Creating ads native to these social media platforms such as Facebook ads, Instagram ads, Twitter ads, LinkedIn ads, Pinterest ads, Snapchat ads etc
(Here at CreativeQ we can't help with creating or maintaining your social media presence, but servicing ads onto social media platforms is a specialty of ours)

Email marketing

Messages to personal contacts
Maintaining and growing email lists in your accounts on email software providers such as MailChimp
Purchasing or renting third-party email lists
(Here at CreativeQ we advise clients on how best to grow email lists over time with web forms and downloads, but we can't help with other aspects of email marketing)

Digital signage

Also known as "in-window screens" or "digital screens" or just "screens"
Example 1: digital screens in the front window of travel agents promoting current travel & accommodation deals
Example 2: digital menus at fast food restaurants above the counter which can change according to the time of day and special offers
Example 3: digital screens built into the walls of bus shelters on busy roads

Digital billboards

Large format (6m+) digital signage with static ads or short animated video ads

In-app ads

Text ads, display ads and video ads pushed into apps during usage (so that the apps can be downloaded for free)

Affiliate marketing

Also known as "affiliate advertising"
Its where you pay a commission on each sale to a network of affiliate marketers who write blog articles, social media posts, make videos and send emails to their audiences

Media releases

Also known as "Press releases" or "News releases"
Writing stories in media / news style in the hope that media companies and publications publish the story

Public Relations

Also known as "PR" is the practice of managing the release and spread of information about your organisation to the public
This information can be non-paid or paid and can include:

Articles and interviews for publications and media channels
Content on your website and in emails
Speech writing for the organisations leadership
Internal communication with employees and stakeholders
Event management

Podcasting

Creating audio content to demonstrate thought leadership on a particular topic

Webinars

Also known as "online seminar"
Holding live or pre-recorded webinars teaching either strategy or best practice in your industry
Here at CreativeQ we focus our attention on digital marketing methods numbered #1 – #7 in the list above.
If you need help with the other methods in the list, reach out to us anyway, we may know someone who can help.
Q: "What's the difference between Search Engine Marketing (SEM) and Search Engine Optimisation (SEO)?
Search Engine Marketing (SEM) is paid advertising on Google's search engine results page. This is also often called Cost-Per-Click Advertising (or CPC  ads for short).
Search Engine Optimisation is the deliberate configuration of your websites text and structure to ensure Googlebot understands your content and can match users searching Google with specific content on your website. This flow of visitors to your website is free and is often called "organic traffic" to hint at the idea that this traffic is natural.
Q: "Why was Google Adwords renamed to be Google Ads"?
Google Adwords is the old name for Google Ads. Google changed the name because their advertising platform is now vast and having "words" in the product name limited the scope of the types of ads they now run so they rebranded their product.
Q: "What online advertising platforms shall we use?"
It depends on your goals/objectives and budget, but there are 3 major ad platforms:
Google Ads

Text ads, display ads, video ads
Placed on the Google Search results pages, Google properties such as Google Maps, The Display Network of thousands of websites that provide space for ads in exchange for a share of the advertising revenue

Social Ads

Text ads, display ads, video ads
Placed onto social media platforms such as Facebook, Instagram, LinkedIn, Twitter, Pinterest and hundreds of others

Programmatic Ads

Display ads based on demographics and behaviour
Placed onto any and all internet properties such as websites, apps, and devices
Q: "What are the 10 types of Facebook ads?"
Native Facebook Image Ad

The most simple Facebook Ad which features a single image with accompanying text and a button

Facebook Dynamic Ad

Provide a small library of headlines, descriptions, images and buttons, and Facebook will test combinations to find the most effective

Facebook Video Ad

Adds eye-catching movement to your ad by replacing the image with a short video

Facebook Slideshow Ad

A combination of between 3 and 10 images or videos, to accompany your ad text

Facebook Carousel Ad

Like a slideshow, but this time, each image or video can have it's own link

Facebook Messenger Ad

A text message served into your target audiences Messenger feed to start a conversation with them

Facebook Lead Ad

Provides a short form where you can collect details like name, email address, phone number, city

Facebook Instant Experience

Is a mini webpage with 2 large paragraphs of text, 2 large photos and 2 large buttons going to destinations you choose
(Formerly called "Facebook Canvas Ads")

Facebook Collection Ad

Includes a Instant Experience plus you can feature multiple products

Boosted Facebook Page Posts

Inserts your Facebook posts into the newsfeed of those that already like your page, to their friends, or to a wider audience
Q: "What are the 6 major formats of online advertising?"
There are 6 main formats:
Text based ads

Very easy to setup
Very easy to change

Static image ads

No animation but are inexpensive to produce and still have messaging, colour, and imagery

Display ads

Also known as "banner ads", these have colour, imagery, animation/movement and clickable elements
Are more expensive to get professionally designed but there is software available now such as BannerSnack.com that makes it easier to create. Many advertising platforms also provide their own ad builders

Video ads

Much more engaging than most other formats. They hold attention and immerse the viewer into your message and brand

Interactive ads

More than just a passive display or video ad, this format allows the viewer to click and play with elements. Popular with game ads to provide a teaser of actual game play

Native ads

These ads adapt their colours, style and format to better suit the website, platform or app on which they appear, to look more like regular content
Often a combination of text, images, video and buttons
Q: "What are the 9 different ad campaign types in Google Ads?"
Google Search Campaigns

Also known as "Search Engine Marketing"
Text based ads displayed above, below and to the side of Google search results pages
Includes brand name search, competitor brand name search, product specific search, service specific search and more
Extensions available include:

Sitelink extensions (links straight to your deeper webpages)
Call extensions (one click to call you)
Location extensions (showing locations closest to the searcher)
Offer extensions (show casing your limited time offers)
App extensions (links directly to the Google Play store so searches can download your app immediately)

Google Display Campaign

Also known as "banner ads", these have colour, imagery, animation/movement and clickable elements

Google Text Ad Campaign

Small text ads on the Google ad network (such as Google Maps, YouTube, Gmail, Google Play, Blogger and others) when available space is limited

Google Dynamic Campaign

Inserts the actual phrases users are searching Google for directly into your ad to increase relevance

Google Responsive Campaign

Provide a small library of headlines, descriptions, images and call-to-actions, and Google will choose a combination to fit the available space and test combinations to find the most effective

Google Retargeting Campaign

Also known as "Remarketing" (technically remarketing involves email marketing but the terms are often used interchangeably)
Place special code on your website to add every visitor to a retargeting list so your ads will follow them around the internet encouraging them to come back to your website for 30 days or more

Google Video Campaign for YouTube

Much more engaging than most other formats. They hold attention and immerse the viewer into your message and brand
Either pre-video or mid-video

Shopping Campaign

Appear above Google Search results with products straight from your ecommerce website relevant to their search terms

Mobile App Campaigns

To promote your IOS or Android app in Google Search, YouTube, Google Play and more
Q: "Where can we place our ads?"
There are 4 main places where it would be appropriate to put your ads:
1. On the Google Search Results page with "Google Text Ads"
Format: Text-based ads, shopping/product ads
Locations: Above, below and to the side of the search results page
Set Up: Very easy to set up
Costs: $1 – $50 per click depending on your industry and how much competition there is (for example industry's like finance or tourism are highly competitive so cost more per click)
Targeting: Excellent

Searchers are actively looking for solutions/products/services like yours, so this is your chance to be considered
You can specify a geographic target so your ads are only shown to the audience you care about

Effectiveness: Excellent

Provides high quality data so you can evolve your ads to lower your cost-per-click over time
2. On websites or apps selling space for display advertising
Format: Text-based ads, responsive ads, display ads, video ads
Locations: On websites or apps that have dedicated space to supplement their revenue with ad revenue
Set Up: Easy to set up
Costs: Very low CPM (Cost-Per-Thousand Impressions) because the inventory available is almost unlimited
Targeting: Poor to excellent depending on your settings
Effectiveness: Good reach

Your ads could be popping up on both high quality and random websites all over the internet – good for cheap brand recognition but traditionally not as good as Google search ads in terms of generating specific actions
3. On Social Media platforms such as Facebook
Format: May formats available such as static image ads, video ads, lead generation forms and more
Locations: In the newsfeed, side bar and messenger
Set Up: Ads manager interface can be difficult and time consuming to use
Costs: Low
Targeting: Excellent

You can specify exactly who your demographic is Eg certain age groups, in specific geographic locations with particular interests

Effectiveness: Excellent
4. Huge media websites with their own advertising systems
Format: display ads (interactive costs extra & video is not usually available)
Locations: Eg TradeMe, NZHerald etc.

They do their best to sell advertising direct for a premium and then provide any unsold inventory back to the major platforms (such as Google Ads) for a share of the ad revenue

Set Up: Difficult

Often have contracts/agreements to sign and difficult payment terms

Costs

The CPM (Cost-Per-Thousand Impressions) is usually very high and uncompetitive to a discerning advertiser (because they put a very high value on their own audience and there is large overhead to pay for)

Targeting: Poor. Often only provide choice of section that may loosely follow interests
Effectiveness: Low

Slowly phasing out as the technology of the bigger platforms increase their superiority
Q: "What do we need to know before we get started with digital marketing?"
Be very clear what your objective is

If it's new customers: What are you offering them? Why should they join? What's in it for them? What should your landing page say?

Set a value on that new customer

Eg if you can expect every new customer to stick with you for 5 years and you will earn $100 from that relationship, then the value of a new customer is $100. If 50% of them will stick with you, the value is $50
This is your maximum allowable "Cost of Acquisition"

Set a target

Eg "1000 new customers"
And decide upfront how you will measure the results (eg install tracking code on the website)

Set a budget

Multiple your target by your Cost of Acquisition
If the number is unacceptable, re-adjust any of the numbers accordingly

Hand over the project to someone who knows what they are doing
Q: "Why is CreativeQ the best team to choose to manage our digital marketing?"
We manage tens of thousands of dollars of media spend and generate hundreds of enquiries every day and have the technical team to improve the conversion of your website.
We collaborate with ambitious brands and agencies;
we'd love to build something great together.